Love of beauty is taste.
The creation of beauty is art.

– Ralph Waldo Emerson
About the Salon
Salon Buzz is a collective of the finest talent, created on the idea that there is beauty in all things just waiting to be uncovered. We believe in inspiring and empowering all of our clients with our commitment to integrity, artistry and creativity. The energy is electric, magnetic and translated throughout both our salons by our collaborative client relationships, support for growth and, of course, the pursuit of the finest environment to create magic.
Founded by well-known stylist Andreas Zafiriadis in 1998, Salon Buzz is a perfect fit for Chicago's urbanity, diverse culture, and appreciation for beauty.
Chicago is my home – I opened Salon Buzz in Chicago to be able to bring sophistication, superb client care and the beautiful craftsmanship of the world's capitals to our beautiful city.

– Andreas Zafiriadis, Founder of Salon Buzz
About Andreas
A native of Athens, Greece, Andreas has been mastering the craft of hairdressing since moving to Chicago in 1983.
Over the past 35 years, Andreas has become a household name in the city by maintaining his passion for bringing out the potential in every client, inspiring his staff to make everyone feel beautiful and mentoring the next generation of trendsetters.
Always keeping his finger on the pulse of progression, Andreas is a master of translating ideas and visions into transformations. It is his inspiration, enthusiasm and industry savvy that have kept Salon Buzz current, creative and at the forefront of style.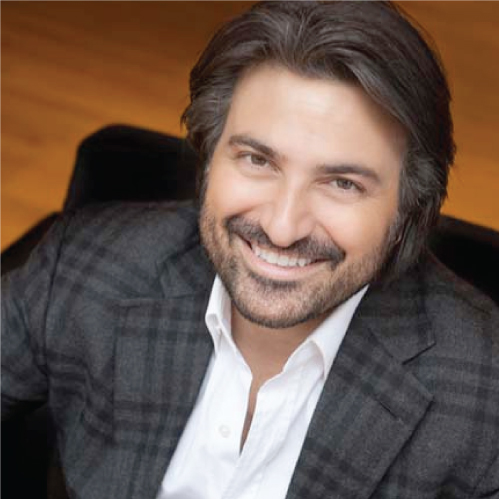 Our Locations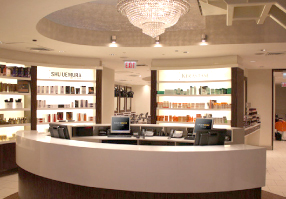 Salon Buzz Gold Coast
One East Delaware Place
Chicago, Illinois 60611
Get Directions
312-943-5454
Monday

9:00-5:00

Tuesday

8:00-6:00

Wednesday

9:00-7:30

Thursday

9:00-7:30

Friday

8:00-6:00

Saturday

8:00-5:00

Sunday

Closed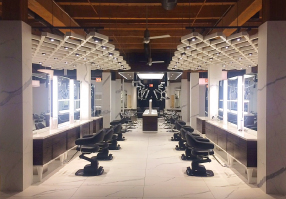 Salon Buzz River North
310 West Superior Street
Chicago, Illinois 60654
Get Directions
312-943-5454
Monday

Closed

Tuesday

8:00-6:00

Wednesday

9:00-7:30

Thursday

9:00-7:30

Friday

8:00-6:00

Saturday

8:00-5:00

Sunday

Closed
Party & Offsite Services
Our expert Party and Offsite Team are ready to transform you for any event or special occasion. Whether in the salon or on location, our hair and makeup professionals will consult with you to translate your vision into reality.
For more information, rates and scheduling, please contact the salon at 312-943-5454.
Booking Policy
Appointments
Please arrive 10 minutes prior to your appointment to ensure you receive your full service. We recommend that you book your next appointment prior to leaving the salon so that we can be sure to accommodate your schedule.
If you are running late, we will do everything possible to accommodate you. If you are excessively late, please keep in mind that we may need to reschedule your appointment.
We regret that we cannot be responsible for loss or damage to personal articles.
Please keep all valuable items with you during your service.
Please advise our staff of any allergies or sensitivities you may have.
Our employees work as a team. If for any reason you are uncomfortable with the service provider you have reserved, another team member can be made available to you.
No pets are allowed in the salon. Salon Buzz allows for and supports the use of service animals for individuals with disabilities and any other protected class.
Cancellation Policy
Cancellations
All prices are subject to change at the discretion of management.
Please note that if you need to cancel your appointment, we require a 24 hour notice so that other guests are able to book during this time slot.
Any appointment cancelled under 24 hours will be subject to a cancellation fee equal to 50% of the total cost of scheduled service(s).
In the event of a missed appointment, you will be subject to a cancellation fee equal to 100% of the total cost of scheduled service(s).
For extended hair services listed below, we require a 72-hour notice to avoid this cancellation fee.
Extensions
Brazilian treatment
Japanese relaxer
Perms
Cezanne
Extended hair color or haircuts
You will be charged the full service price for missing your appointment without any notice.
Gratuities
Tipping is left to the discretion of our clients. Tips cannot be added to credit card charges. Gift certificates do not include gratuities.
Methods of Payment
We accept Visa, MasterCard as well as cash or debit cards and personal checks. We do not accept third party checks.
Return Policy
No cash refunds or credit back on credit cards.
Product returns will be put salon credit.
Hard tools, hair brushes, and nail polishes are NOT refundable or eligible for exchanges.
Products purchased more than 3 months prior to return date will not be eligible for product credit.
Products that have been significantly used may forfeit a client's return for product credit.
Workshop
Be a Model
The Salon Buzz Workshop offers advanced education for cosmetology-licensed professionals who'd like to take their education, career and skill to the next level.
On training days, our junior stylists and colorists create customized looks for a fraction of Salon Buzz's regular prices under the supervision and guidance of our education team and Andreas.
We offer two specialized, advanced education programs: Haircutting/Styling and Color. Each program is taught by current Salon Buzz senior stylists and specialists so students are not only mentored by the best in the business, but also clients can expect the highest level of elite hairdressing.
For more information, please call 312-943-5454.